Takeaways from VIDA's First Virtual Conference
Adaptability to change has always been a core value at VIDA. So, when we saw major events canceled due to COVID-19, we were eager to find alternative ways of connecting with the industry. In this spirit, VIDA participated in its first virtual conference last month: the AuntMinnie.com virtual conference on May 1. Here's what it was like and what we learned:
While virtual booth interactions lack physical contact, live chat and impromptu video calls provide a workable substitute that is feeling more and more normal as the COVID-19 pandemic continues--and certainly better than nothing at all.
For talks and lectures, the virtual setting is quite effective. As virtual platforms infuse more interactively (e.g. live polls) into their solutions, these talks will be even more collaborative.
We recommend that virtual conference attendees plan their day according to the event schedule, like you would a live event. Pre-scheduling meetings with exhibitors, peers and organizers will help optimize time spent online and make the most of the available content.
At the conference, there were 12 exhibitors with virtual booths that lived within a virtual exhibit hall in a virtual city. We customized the booth with our own graphics, collateral, and web links for visitors to access. Here's a look at VIDA's virtual booth: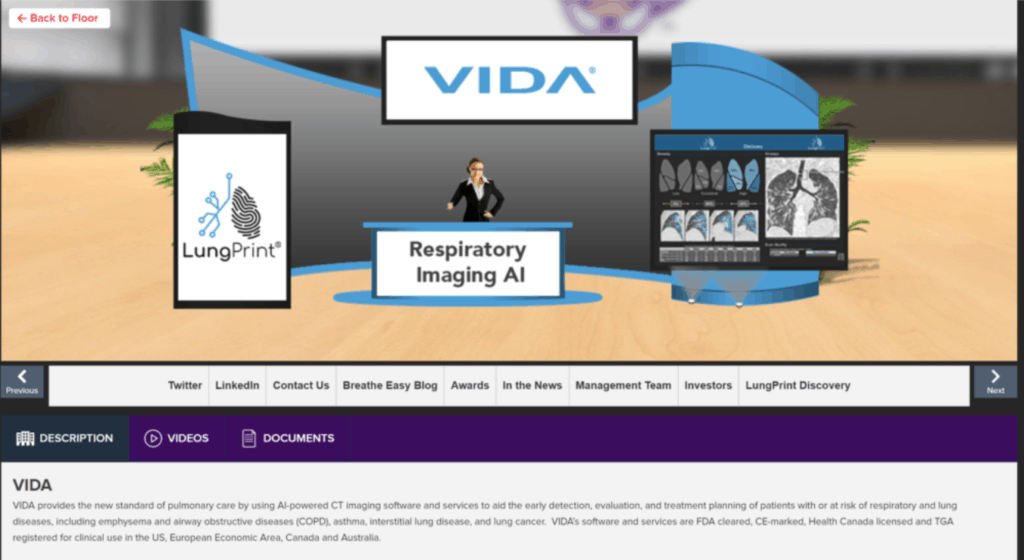 Booth visitors could download materials and initiate a text chat, or even an impromptu voice or video chat. Throughout VIDA's home offices, our staff was suited up and ready to engage with visitors in this novel way.
Attendees could also go to the virtual auditorium to listen to industry leaders share their expertise on several topics, many related to COVID-19, AI as well as Radiology's evolving role during this pandemic. VIDA's talk, AI-Powered Respiratory Imaging in and Beyond the Era of COVID-19, presented by John Newell, MD and Susan Wood, PhD was well attended. If you missed it, click here to view highlights from this informative session.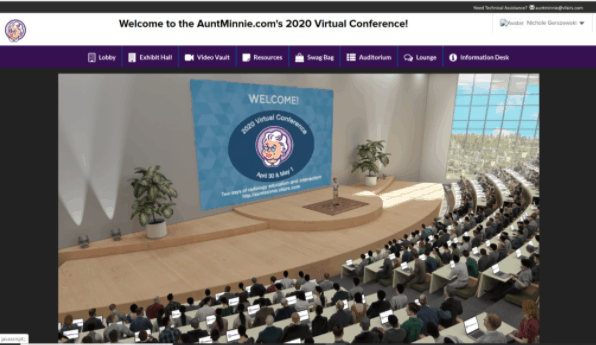 In summary, we learned that virtual meetings offer a novel way to stay connected with one another in this time of social distancing. Virtual meetings offer many benefits, including flexibility in booth hours, rich multimedia, a limited carbon footprint and no sore feet.
With one virtual event under our belt, we are already eager for the next one. We look forward to seeing you there too!
Status of Notable 2020 industry events as of June 20:
ESTI (June) canceled
SIIM (June) Virtual
ECR (Originally scheduled in March, will now be held virtually July 15-19)
ERS (September) Virtual
RSNA (November) Virtual
COPD 2020 (September 24-25 in Paris): Live